Posted on: 10th January 2020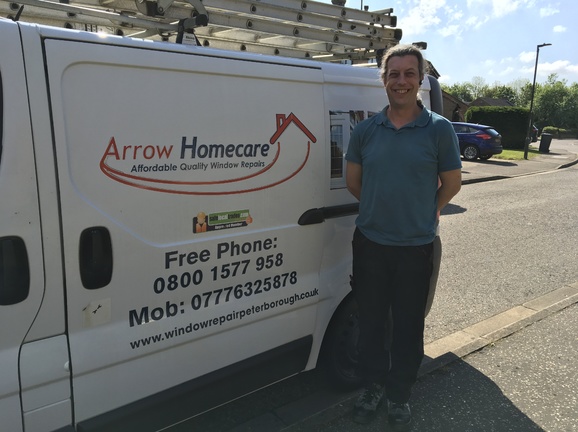 Member Spotlight on Chris Wright of Arrow Homecare
IN THE SPOTLIGHT WITH MEMBER ...
When you were a child, what did you aspire to be?
So many different things; it changed on a weekly basis!
Did you enjoy school?
School was school, I got through it and did A-levels twice as I did not know what to do with myself.

What motivated you to learn your trade/profession?
I had been working in the motorcycle training industry for many years and wanted to do something totally different and for myself rather than working for a boss. The opportunity came up to setup and retrain at the right time.

What motivated you to start your own business?
The chance to be my own boss and decide how I want to do things. Also more flexibility to spend more time with family. In previous jobs, I worked many long hours and had little free time.
Do you wish you had started your business earlier?
When I look back at the decisions I made in life, everything had a time and a place and came to a natural end. This led to new experiences and new opportunities.
What are the rewards of being your 'own Boss'?
Freedom to decide how things get done to the satisfaction of the customer but ultimately the ability to have time with family. I have a 3 year old and while she wants to spend time with her dad, I will take it! All too soon she will not want to do things with me so I'm cherishing these moments.
How did you support yourself financially to start your own business?
I had a financial blanket that allowed me to not worry for the first few years but, in all honesty, they were busier than I expected and it hasn't stopped.
What made you decide to join Safe Local Trades?
The ethos behind Safe Local Trades – totally different to the alternatives and a much more supportive group. All the members I have met over the years are similar in thought to myself. We want to do a good job for a reasonable price to the satisfaction of the customer.
How has Safe Local Trades worked for your Business?
I don't do a lot of advertising; most of my work is recommendations from past customers and Safe Local Trades gives those customers a platform to air their recommendations together with all the checks that Safe Local Trades provide to ensure we trades are working to a high standard. The advertising opportunities through SLT are not ones I would do without the backing of SLT, as it adds security to the customer when choosing a tradesperson. Being a member has also given customers security and peace of mind when contacting me.
What are the incentives that keep you with Safe Local Trades?
As mentioned above, the ethos behind Safe Local Trades and the network of traders. If I have a customer who asks for a recommendation for another trade that is outside of my scope of work, I have a pool of traders to point them to, safe in the knowledge that they have also been checked and are reliable.
To read Chris Wright's profile on Safe Local Trades, click here

---
Read other member spotlights:


Nick Ash of Will & Probate Services
Steve Bedford of Drylining Systems
Barry Didcott of Direct Electrical & Alarms Peterborough
Tony Bogusz of Style Home Improvements
Chris Rutter of JC Rutter Carpentry & General Maintenance