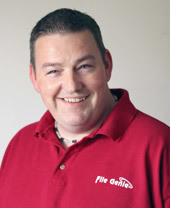 Member Spotlight on Ben Hemp of File Genie in Peterborough
IN THE SPOTLIGHT WITH MEMBER ...
Ben Hemp
File Genie
When you were a child, what did you aspire to be?
I had and still have a love of cooking, anything a little unusual. So, something in catering although I never managed to narrow it down to exactly what.
Did you enjoy school?
I detested school with the fire of 1000 suns! I am chronically dyslexic and during my time at school this was not a recognised condition; it was just considered stupid!
What motivated you to learn your trade?
Firstly and foremostly I am a massive geek! Even from a very early age I have been good at taking things apart and putting them back together in working order. Given this, a specific direction seemed the only logical way forward.
What motivated you to start your own business?
I was working for a company when the recession hit. They moved operations back to the Netherlands and I didn't want to go even though they had offered me a lot of money to do so. In order to justify that decision, I had to do something worthwhile... and with that "File Genie was" born.
Do you wish you had started your business earlier?
No. The experiences I have gained through colleagues and other employment proved, again and again, invaluable.
What are the rewards of being your 'own boss'?
I am under no illusion Sara is the boss! But I do get to do the job I love and sensible work life balance to boot.
How did you support yourself financially to start your own business?
During the very early months I worked the early morning shift at a warehouse, then came home and started building my own business. Also, endless support and meticulous money management from my partner.
What made you decide to join Safe Local Trades & Services?
Eileen and her team have always been very supportive of me. There is also a small army of tradespeople out in people's homes and businesses day after day that can point people in my direction where appropriate and of course I can reciprocate.
How has Safe Local Trades & Services worked for your Business?
I receive a flow of work via Safe Local Trades & Services. When I arrive at a customer's, they seem more at ease because of my association with Safe Local Trades & Services. This is a massive help due to the sometimes very personal nature of what I do. Trust is everything.
What are the incentives that keep you with Safe Local Trades & Services?
I really enjoy the informal monthly members meetings, for the information exchange via member talks and management team updates. Also the business that is passed between members; it puts me in front of people that otherwise would not know the areas in which I can help them.
To see Ben's profile on Safe Local Trades & Services, click here
Read other member spotlights:
Barry Didcott of Direct Electrical & Alarms Peterborough
Tony Bogusz of Style Home Improvements
Chris Rutter of JC Rutter Carpentry & General Maintenance
Clayton Fisher of Install Fascias & Windows and Doors