Posted on: 6th September 2019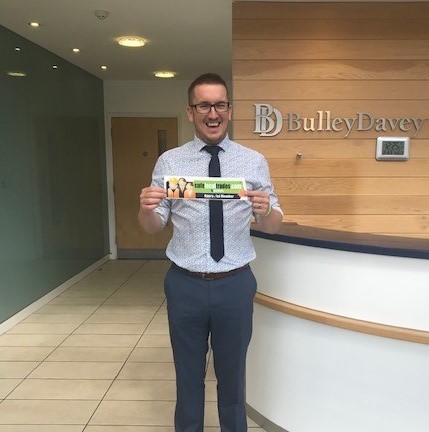 Member Spotlight on Ryan Millson of Bulley Davey, Peterborough Accountants
IN THE SPOTLIGHT WITH MEMBER ...
When you were a child, what did you aspire to be?
Being a typical boy at school all I could imagine was playing football. When slightly older I took a keen interest in Motorsport and to this day would remain my ideal occupation!
Did you enjoy school?
I did enjoy school, I was relatively strong academically speaking, certainly during Primary School. I was then guilty of doing just enough to get by in Secondary School which resulted in me probably not reaching my potential.

What motivated you to learn your trade/profession?
After working with my Mother at an insurance company immediately after finishing sixth form for about 18 months, I was encouraged to either make a career out of it or do something else. I chose accountancy as I enjoyed Maths and Business Studies prior to doing my A levels and I had the impression it was a career whereby you could earn a decent salary if you worked hard!

What made you decide to join Safe Local Trades & Services?
We joined Safe Local Trades & Services as a way to put us in touch with other local businesses with the intention of growing our client base. We wanted to get across that we are a local accountant and offer a value for money service even to smaller businesses. From a personal point of view I wanted to take on the responsibility to help grow my own personal network of contacts and develop myself as part of my own career path.

How has Safe Local Trades & Services worked for your Business?
Safe Local Trades & Services has given us the opportunity to meet with likeminded, local business owners and other professionals who share our philosophy of putting the needs of clients first.
What are the incentives that keep you with Safe Local Trades & Services?
We take a very personal approach to the work we do and feel that Safe Local Trades & Services follow the same ethos. With this in mind having our name linked with a respected local business network can only enhance our reputation as trusted advisers.
To read Bulley Davey's profile on Safe Local Trades, click here
---
Read other member spotlights:
Steve Bedford of Drylining Systems
Barry Didcott of Direct Electrical & Alarms Peterborough
Tony Bogusz of Style Home Improvements
Chris Rutter of JC Rutter Carpentry & General Maintenance