Posted on: 18th November 2022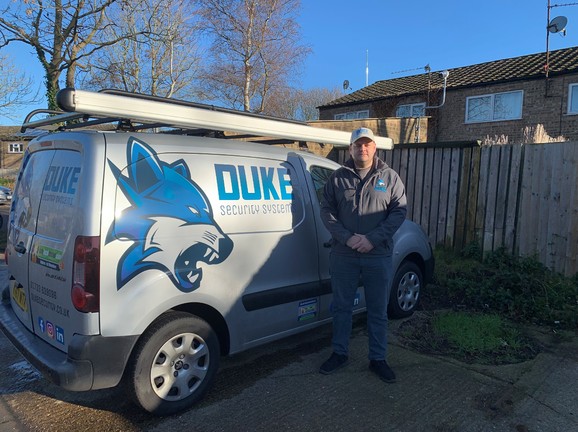 Member Spotlight on Anthony Groom of Duke Security Systems & Home Network Installations
IN THE SPOTLIGHT WITH MEMBER ...
When you were a child, what did you aspire to be?
Through my early childhood, I didn't really have aspirations for a particular career. This changed when I was around 13 and joined the army cadets in Westwood. I absolutely loved the comradery, the adrenaline of playing war games and generally the great outdoors. When I was 15 I was asked what I wanted to be by my careers advisor. At this time, the film saving private Ryan hit the shelf of my local choices video store in Bretton which made me question if this was really the career for me (rather naively I thought the Normandy landings was an every day part of being in the army). My careers advisor said if I was unsure, perhaps an army style public services course would be of benefit. I saw this as playing war games 5 days a week, agreed instantly and joined the pre-uniformed services course at Stamford college the very next day.
This "lads army" style course taught me a great deal about self-determination and discipline and although I wasn't able to join the army for having asthma as a child, I am grateful for what the course taught me. It has also served me well in my role as an ice-hockey referee!
What are your memories of school?
My greatest memories of school are being in the IT block between and after classes learning as much as humanly possible about how they worked and the internet (the internet was still very young then!) Still to this day I enjoy computer programming and coding.
What motivated you to start your own business?
My motivation stemmed from a mixture of determination, a desire to learn and necessity. In December 2019 I was made redundant from Thomas Cook due to its collapse – I job that I never imagined that I would leave. My role at the time was to conduct physical security assessments of hotels, corporate offices, and critical infrastructure sites. Every week I would be in a new location (usually hot) and was encouraged to "experience the destination" as I travelled. After Thomas Cook's collapse, covid hit resulting in a nationwide recruitment freeze, especially in the travel and tourism sector. After being out of work for 8 months and completing most of the games on the PS4, I come to the conclusion that if I couldn't find a job, I will give myself one, as a result, I started Duke Security Systems.
What motivated you to learn your trade?
Through my earlier security career, I met many physical security companies that recommended or quoted hardware that either makes their life easier as installers or maintainers, or earns them the most money. Never really had I met a security company who wanted to understand the vulnerabilities of a site and really think hard to mitigate the risks to a reasonable level. This is a characteristic I valued most as a designer and one that I valued over cost. As a result, I decided on physical security, mainly CCTV.
Do you wish you had started your business earlier?
I think the timing was just right for me. I'm a great believer that life is the great educator. I think any earlier and I wouldn't have the skills and experiences to succeed, any later and my knees wouldn't survive all the crawling in loft spaces!
How did you support yourself financially to start your own business?
I'm quite lucky that shortly after starting my business I secured a part time role back in security risk management. After a year of being in business I'm only now just seeing a profit. Anything I am earning is being reinvested.
What are the rewards of being your 'own Boss'?
Probably at the top of my list getting out and about and meeting people. There really is no better feeling than finishing a day, reflecting and realising you had a tangible improvement to someone's life, whether that be making them safer or fixing a problem. Second to that is learning new transferable skills such as basic marketing, web development and accountancy. I'm naturally a curious person and always on the look out to learn something new. Lastly, I enjoy having the flexibility of choosing how much work to take on.
What made you decide to join Safe Local Trades?
When I first started Duke Security Systems my ethos was to look after the customer and become trusted in the local community. As a result, I was keen to find a directory that share these values. A personal friend, Darrell Allen from DNA Scaffolding, recommended Safe Local Trades and, after checking them out, I knew this was the directory for me. It was clear from the outset that the vision was to promote reasonably priced, local work with a clear commitment to safety. The customers I've attained through Safe Local Trades are loyal to the ethos and brand, and genuinely a pleasure to do business with.
How has Safe Local Trades worked for your Business?
First and foremost, Safe Local Trades has helped me find customers. As most trades would agree, word of mouth is the greatest marketing tool and without an initial customer base, business can be slow when starting out. Secondly its great to have a partner that is truly on the side of both the trader and customer. Eileen has also been great in offering advice whenever I have needed it.
To read Anthony's profile and reviews on Safe Local Trades, click here
---
Read other member spotlights by selecting 'View all Member Spotlights' found above the top picture on this page.
Tony Bogusz of Style Home Improvements
Chris Rutter of JC Rutter Carpentry & General Maintenance