Posted on: 11th January 2021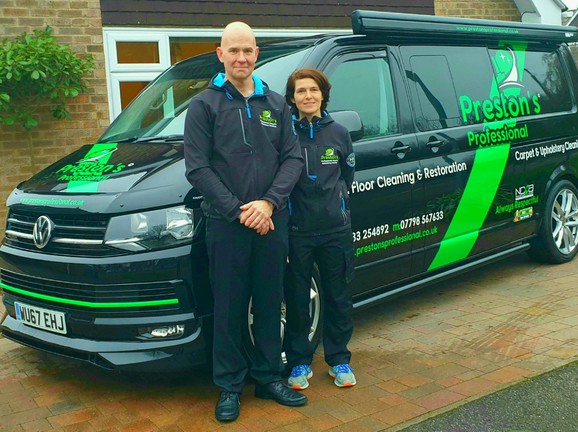 Member Spotlight on Richard Preston of Preston's Professional Carpet, Hardwood & Upholstery Cleaning
IN THE SPOTLIGHT WITH MEMBER ...
When you were a child, what did you aspire to be?
Having a love of anything mechanical that flies, a fast-jet pilot (of course!)
What are your memories of school?
School dinners were less than impressive – that is about all I remember. My qualifications were gained once I had left school, not while I was there!
What motivated you to learn your trade?
My obsession with being clean – I am a true perfectionist – I found this job ticked all the boxes and gives me huge job satisfaction. The results of our endeavours are instantly visible, it's also extremely rewarding to see the smiles on our customer's faces when they see the results of our work.
What motivated you to start your own business?
Having had a stressful job in a corporate environment, managing a large department I decided to be in charge of my own destiny.

Do you wish you had started your business earlier?
Without a doubt I wish I had started a lot earlier. It was very difficult to leave a highly-paid, senior role, however, being your own boss and doing something so rewarding outweighs the benefits of my previous employment.
How did you support yourself financially to start your own business?
I saved up over a number of years, knowing I needed capital to invest in the business, including buying the best available equipment possible.
What are the rewards of being your 'own Boss'?
Your successes and achievements are your own – seeing a business grow and succeed, and to be valued by our customers, are the highest rewards of them all.
What made you decide to join Safe Local Trades?
Initially another SLT member highly recommended SLT to us. On speaking to Eileen, it was immediately apparent that an association with SLT was aligned to our company ethos of; quality, professionalism, and first-class customer service, which made the decision to join a very easy one.
How has Safe Local Trades worked for your Business?
SLT has provided our business with a steady flow of work, a platform for sharing customer feedback and reviews, showcasing the quality of our work and the results we deliver. It has been the best decision we have made since the conception of our business.
(We also source all our tradespeople, if and when needed, through Safe Local Trades)