Posted on: 28th March 2023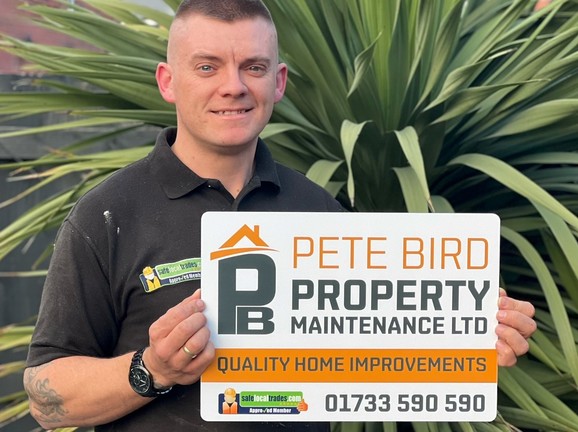 Member Spotlight on Pete Bird of Pete Bird Property Maintenance
IN THE SPOTLIGHT WITH MEMBER ...
When you were a child, what did you aspire to be?
Well it was always going to be something with tools, my Dad was always finding his hammer in the bushes.
What are your memories of school?
School was a tough place (boring to be honest) - I found I enjoyed my paper round more!
What motivated you to learn your trade?
From starting up as an apprentice cabinet maker when I was 15, I looked up to the older guys who would be making their own projects and wished I could be that guy someday.
What motivated you to start your own business?
The sheer lack of local reliable tradesmen in my direct area. There are thousands of new properties being built right on my doorstep so I figured I could offer something great to the people of South Peterborough.
Do you wish you had started your business earlier?
Without a shadow of a doubt, although I think my journey to get to where I am today was the right one as everything I previously did has led me to this today.
How did you support yourself financially to start your own business?
Started off small doing the basics for people, small handyman jobs etc., and once I gained the trust of people locally then things really took off. From this I was able to buy a van, although I still wasn't sure if things would work out - guess I got lucky!
What are the rewards of being your 'own Boss'?
It's hard to put this into words but its one of the best feelings in the world. Knowing you're recommended, people are over the moon with their projects, we get the chance to be very creative, the list is endless really.
What made you decide to join Safe Local Trades?
As soon as I found out about Safe Local Trades, I thought it sounded like a great idea. After the initial chat I soon realised that this was exactly the kind of organisation I wanted to be with - the best!
How has Safe Local Trades worked for your Business?
I think starting off with Safe Local Trades early on made a huge impact on my business; not only has it amounted to many many jobs by being part of 'the best' tradesmen in the PE postcodes, it also reassures the customer they are going to get an A* job by a trustworthy professional.
To read Pete Bird's profile and reviews on Safe Local Trades, click here
---
Read other member spotlights by selecting 'View all Member Spotlights' found above the top picture on this page:


Tony Bogusz of Style Home Improvements
Chris Rutter of JC Rutter Carpentry & General Maintenance