Posted on: 19th February 2021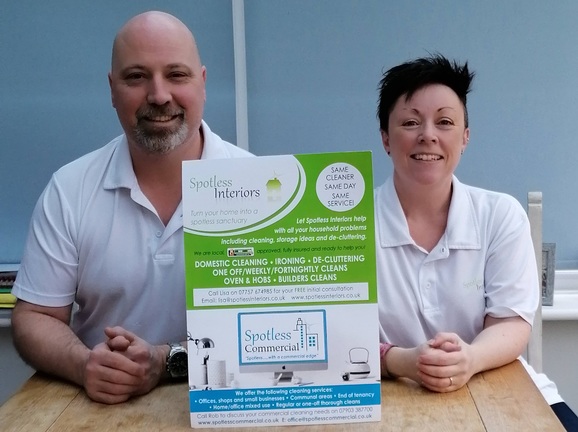 Member Spotlight on Lisa Richardson of Spotless Interiors
IN THE SPOTLIGHT WITH MEMBER ...
When you were a child, what did you aspire to be?
I wanted to be a dancer! I went to University and studied performing arts with the hope of performing or setting up my own dance company, but it wasn't to be.
What are your memories of school?
Not always the easiest of times but made some lovely friends along the way and have some wonderful memories. I still keep in touch with several of the friends I made at school.
What motivated you to learn your trade?
I've always been interested in home style/de-cluttering but our business started out of a need to work. Both Rob and I were made redundant in a short space of time, during the recession of 2008/2009 onwards. Jobs were scarce, especially in the legal profession which was where I had been employed and we needed to generate an income.
What motivated you to start your own business?
I started helping a close friend to de-clutter her home and from her encouragement and that of other close friends, we started to consider setting up our own business. It was primarily out of necessity to bring in an income but we quickly realised we had nothing to lose. I attended a course aimed at women wanting to start a small business, which gave us invaluable information and insight. Rob started off carrying out the cleaning appointments and together we began to build a client base and work on our ethos and business structure.
Do you wish you had started your business earlier?
In some ways yes. However, I am a great believer in not regretting choices made in the past. They make us what we are today. We started working for ourselves when we had nothing to lose and felt as though no other options were available.
How did you support yourself financially to start your own business?
With great difficulty. The redundancy money ran out quickly but luckily we had some support from our family. However, I did take a full time conveyancing post to bring in regular money whilst the business was getting off the ground. I worked on the business in the evenings and Rob got it up and running with appointments during the day.
What are the rewards of being your 'own Boss'?
More than I realise at times! Whatever we make of the business, it is down to us and our team. We have not purchased a franchise and so our name, our way of working, staff structure and organisation is all our choosing. We have always set ourselves out to be a professional cleaning company, looking after clients needs and those of our staff. We can decide to that in any way we choose. Having children means we have been able to spend more time with them that we would have done if we were working for someone else. That is precious.
What made you decide to join Safe Local Trades?
From the beginning we were very conscious that we were asking clients to let us work in their home and yet they would know very little about us. That is a big ask. We had already decided we would carry out initial consultations, in order to assure clients of our honesty and reliability and also we would obtain DBS checks. However, we wanted to see if there was more we could do to assure clients that they were safe to let us in. We then came across Safe Local Trades and realised we could have that credibility and the backing of an approval organisation.
How has Safe Local Trades worked for your Business?
It has allayed the concerns of many clients when we meet them for the first time and tell them we are vetted. It also gives the client confidence that we run a professional business and regard honesty and reliability as important parts of our ethos. We have also received a great number of recommendations and new clients as a result of our membership and have close working contacts in Peterborough City Council and other organisations. I can't see why we would not continue to support it in the way it supports us and our business.
To read Lisa's & Rob's profile and reviews on Safe Local Trades, click here
---
Read other member spotlights by selecting 'View all Member Spotlights' found above the top picture on this page.
Tony Bogusz of Style Home Improvements
Chris Rutter of JC Rutter Carpentry & General Maintenance