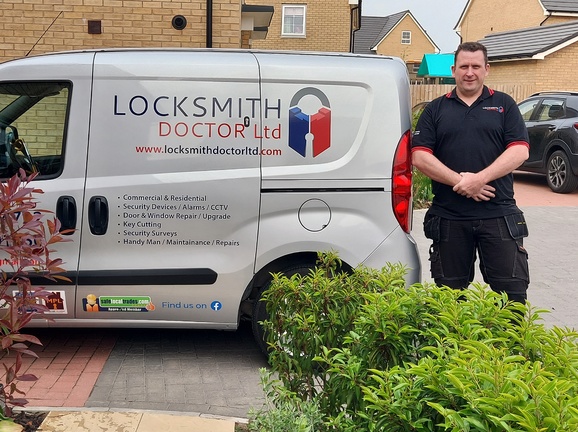 Member Spotlight on Gary Braesyde of Locksmith Doctor
IN THE SPOTLIGHT WITH MEMBER ...
When you were a child, what did you aspire to be?
A difficult question as I aspired to work in the medical field, which I achieved and spent some years working in the NHS, including at Peterborough City Hospital and recently at NHS Nightingale London at the start of the COVID-19 pandemic.
Did you enjoy school?
No, I was bullied most of my childhood.
What motivated you to learn your trade?
After a recent loss of a loved one very close to me, and after re-evaluating what's important in life - which is family and my children - I decided to put them first.
I want to offer my son and others with autism a chance to build a strong future and a sense of belonging to society. All too often people see a disability and not someone who is unique, wonderful and has a lot to offer. I want to know that this business will continue to hold strong ethical values for both customers and staff and that we are more than just locksmiths; we are a sense of belonging, family and community.
What motivated you to start your own business?
My children, my own upbringing of being a child in Care (children's home) and my sense of changing perceptions of disability and how to view others in society. I want to offer my customers honesty, value for money and change the myths about the locksmith and security industry as a whole. I want to be a role model and really want this business to thrive long after I have departed. My business model is about positivity, change and creating something sustainable for others that may not otherwise have been given the same opportunities in life. The whole centre of what we do is about great customer service and caring for others.
What are the rewards of being your 'own Boss'?
Helping others in need, being able to go that extra mile, being able to make an instant change there and then, as well as offering people a smile, hope and warm welcome.
How did you support yourself financially to start your own business?
My life savings and credit cards!
What made you decide to join Safe Local Trades?
That's easy, the values that SLT offer are so similar to what I hold close to my heart. SLT stands for pride, support, and a beam of light in sometimes peoples very dark times. SLT for me is about being part of something very good, something welcoming and above all being part of a family that supports each other. I love working with SLT and love the great work it does for others and its members always go the extra mile.
How has Safe Local Trades worked for your Business?
SLT has enhanced our values, it supports us in getting out our similar values as a company. I love my business but getting the word out about a new business can sometimes be a challenge. Safe Local Trades is helping get the message to potential customers, and although this is a departure from the medical profession, I want a business that is built as a legacy and provides a professional and friendly service.
What are the incentives that keep you with Safe Local Trades?
SLT's ethos, ethics, and continued strive for perfection.
To read Gary Braesyde profile and reviews on Safe Local Trades, click here
---
Read other member spotlights by selecting 'View all Member Spotlights' found above the top pic:


Tony Bogusz of Style Home Improvements
Chris Rutter of JC Rutter Carpentry & General Maintenance