Posted on: 14th January 2022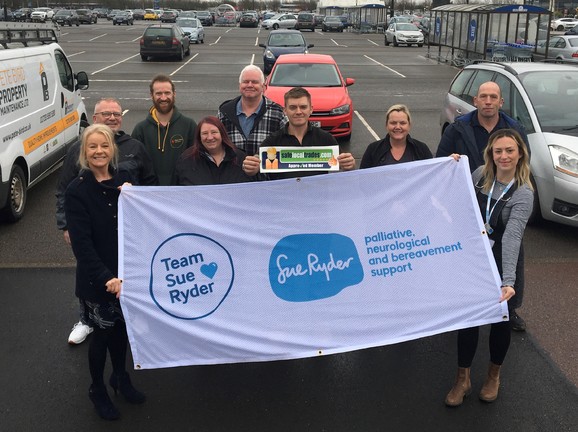 Traders branch out as part of tree-mendous charity efforts for Peterborough charity
THE new year has bought plenty of cheer to Peterborough's Sue Ryder Thorpe Hall Hospice thanks to the tree-mendous efforts of volunteers, including Safe Local Trades members.
Peterborough-based Nene Valley Tree Services has again teamed up with fellow city traders to support the work of the popular local charity, by collecting real Christmas trees from homes around the city.
Owners made a donation to the Sue Ryder Thorpe Hall Hospice in return for the trees being collected, recycled and used for mulch.
Once again, the business community has rallied round to donate their time and vehicles to drive around PE addresses to collect over 500 trees during the 10 days of January – helping to raise over £7,000 for the cause.
Eileen Le Voi, director of Safe Local Trades, said: "I am super proud of our members Lucy and Andy Stone of Nene Valley Tree Services and have been delighted to support them with this campaign and all the volunteer SLT members for once again going the extra mile this year for such a wonderful cause close to the hearts of so many people across the city.
"Despite the ongoing challenges of the pandemic and the fact that the tree collection service is no longer available through Peterborough City Council, this continues to be a very popular and well-supported initiative by the public and also our many traders who have given their time to drive around the city to collect trees in their own vehicles – well done to everyone involved."
Among those volunteering was Safe Local Trades member Steve Bedford of Drylining Services. Steve said: "After losing Deb, my second wife of 25 years to breast cancer, charities like Sue Ryder are close to my heart. Giving a little time may be easy, but the help it generates is enormous."
Joely Garner, community fundraising manager at Sue Ryder Thorpe Hall Hospice added: "The biggest thank you to everyone involved for their incredible support over the last few days with our Treecycling campaign. It is truly thanks to amazing people in our community that we can run this brilliant fundraising initiative for our hospice care at Sue Ryder Thorpe Hall."
Pic cap:
Pictured from left to right above are Eileen Le Voi, Safe Local Trades Director, Derren McPartlin of DMC Plastering, Owen McManus of Fen Pest, Dot and Rod Gill of Replacement Fascias, Pete Bird of Pete Bird Property Maintenance, Helen Yeeles of Acer Spades Gardening, Neil Hoskin of Fence Connection and Joely Garner of Sue Ryder. Not pictured is Jeremy Plant of Elite Exteriors, Steve Bedford of Drylining Services and Andy & Lucy Stone of Nene Valley Tree Services.