Posted on: 1st October 2016
Looking out for your elderly neighbours as the nights draw in.
As the nights pull in – make sure your elderly neighbours aren't left in the dark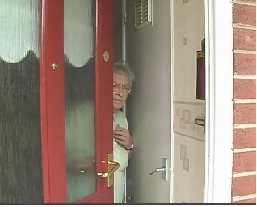 At this point in the year, we start to think about the dawn of a new season – autumn.
Along with its rich colours, crisp walks and atmospheric sunlight also comes darker nights, colder weather and later this month – Hallowe'en, heralding trick or treaters.
As the nights start to gradually pull in, and with the clocks going back at the end of October, now is the idea time to get into the habit of keeping an eye on an older friend or neighbour.
The winter months can be lonely and isolating for those who are less mobile; a knock at the door after dark can be frightening and cold callers on the phone can leave the recipient feeling vulnerable.
The situation isn't helped by the many rogue traders who try to tout for work in the local area, often suggesting to the home owner that a roof or guttering are in need of repair before winter sets in.
This can lead to vulnerable people parting with their cash, and getting nothing but shoddy work and a huge dent in their savings in return.
Then there are phone scams, which may on the surface seem to be less intrusive, but are equally as dangerous.
These can range from callers claiming to be from companies to check non- existent faults on your computer, banks claiming to check your account details and even so-called medical companies suggesting the need for mobile aid from electric chairs to stair lifts.
Share these tips with family and friends, and older relatives:
• Be careful what you say about yourself on social media
• Set your privacy settings
• Keep your media profiles, such as Facebook and LinkedIn to a minimum (your name) and don't post your address or date of birth
• Be very cautious about giving out personal information to people you don't know – age, address, phone number etc
• In public places make sure nobody can hear your conversations or look over your shoulder when banking, shopping or making other confidential online transactions.
With winter on the way, maybe now is a good time to join a Neighbourhood Watch Scheme within your community.
Safe Local Trades, covering the PE Postcode area, has worked with many local Neighbourhood Watch groups over the years – including those in Yaxley and Cardea - providing numerous lamp-post signs as well as giving free talks on the dangers of doorstep callers and other scams.
It has been proven that areas which operate a Neighbourhood Watch Scheme are less likely to be targeted by crime, rogue traders and distraction burglars.
If you live or know anyone in the PE Postcode area who would like to inquire about obtaining free Neighbourhood Watch lamp-post signs, please email eileen@safelocaltrades.com or for advice visit http://www.safelocaltrades.com/consumers/advice/your-neighbourhood-neighbourhoodwatch
Meanwhile, don't be fooled by rogue or cowboy traders making an offer that seems too good to be true – as it most probably is.
Safe Local Trades can recommend trusted and reliable tradespeople across a wide range of areas – all of which come with a customer seal of approval. Go to www.safelocaltrades.com or telephone 01733 530019.