Posted on: 24th December 2019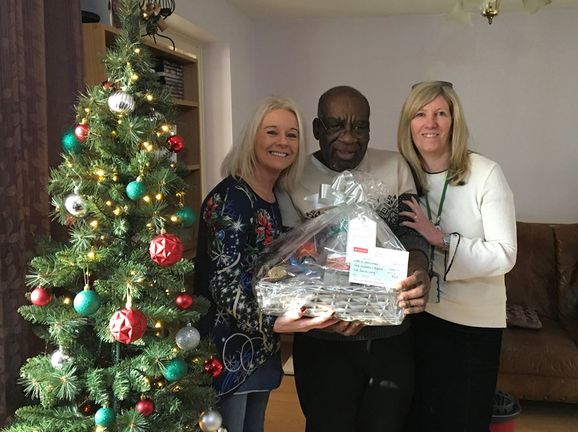 Kind hearted Safe Local Trades members rescue Christmas for rogue trader victim
BEING scammed or conned by cowboy builders at any time of year brings misery enough – but the heartache is maximised at Christmas; particular when family and funds are scarce.
Safe Local Trades were shocked and saddened to hear about the case of a vulnerable gentleman, who had recently moved to Peterborough, being tricked out of £1,000 by unscrupulous doorstep rogue traders.
Cold callers quoted him an initial £30 for a relatively simple job of clearing leaves from guttering. However, a pressured demand for a huge sum of money for a job which was completely unnecessary left the man calling police in a tearful and emotional state – not to mention with no money left for Christmas.
The rogue had taken the last of his cash.
Safe Local Trades issued an appeal to members, asking for donations for a festive hamper to help put a smile back on the gentleman's face.
Within a matter of days we were overwhelmed with gestures of goodwill from both Safe Local Trades members, and some friends and colleagues, who rallied round in support.
Together with a bumper hamper, a cake made especially for him and donations totalling £600, the victim was able to enjoy Christmas – with Safe Local Trades director Eileen Le Voi even delivering and dressing a Christmas tree with all the trimmings to his home.
Eileen said: "What a joy to be able to do this, but it wouldn't have been possible without the generosity, compassion and the spirit of Christmas shown by those who donated. On behalf of this gentleman, who believes the angels were looking down on him, THANK YOU.
"It is a sad fact that rogue traders are becoming more intimidating and brazen in their approach when targeting the elderly and vulnerable. In some cases, these scams are reported quickly to police and money recovered – but as with this gentleman, many go unchecked; leaving victims feeling insecure and having their savings stolen."
This latest show of support from members came just weeks after a garden SOS from another elderly rogue trader victim. Read about our traders' generosity
For trustworthy tradespeople, visit www.safelocaltrades.com and please be vigilant when it comes to cold callers. If in doubt, politely decline their services and close the door – even if they are persistent.