Posted on: 26th June 2023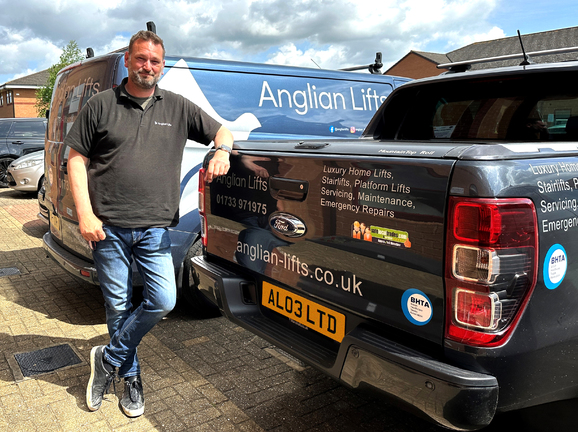 Member Spotlight on Phil Rice of Anglian Lifts
IN THE SPOTLIGHT WITH MEMBER ...
As a child – what did you want to do when you left school?
As a child, my passion for music ignited a strong desire to delve into the world of recording and studio work. This enthusiasm led me to pursue my schoolwork experience in a recording studio, further cementing my love for the craft. However, fate had a different plan in store for me, guiding me towards the mobility and luxury lift industry, which surprisingly fulfilled my aspirations in unexpected ways. Despite this shift, I have managed to maintain my connection to music by setting up a home recording studio. This has allowed me to pursue freelancing opportunities for diverse projects spanning the globe.

What motivated you to learn your trade?
Back in 1997, at the age of 22, I found myself transitioning between jobs when an unexpected opportunity presented itself. The Labour party's 'new deal' policy dictated that after being unemployed for six months, I would be assigned the first available job. As luck would have it, this turned out to be precisely what I was seeking. I found myself joining a modest lift manufacturer situated in the north-east of England. My role involved working on the production lines, meticulously assembling a handful of stairlifts each week.

Who or what inspired you to start your own business and why?
After dedicating numerous years to the lift manufacturer, I steadily climbed the corporate ladder until I reached the esteemed position of Managing Director. However, as time went on, I began to feel trapped in a cycle of monotony. I yearned for a more hands-on role where I could actively contribute to improving people's lives. This desire led me to make a significant decision—to acquire a lift dealership. After thorough research, I came across a promising opportunity in the southern part of the country. With the support of a business associate, we successfully took over the dealership and embarked on a journey of nurturing its growth.

What are the rewards of being your 'own Boss'?
Indeed, "reward" may not fully capture the essence of the experience, but rather it is the profound satisfaction that drives me. Together with my dedicated team, we relentlessly strive to uphold the exceptionally high standards of service that I hold dear. The beauty of our work lies in its ever-changing nature, as each day presents new and unique encounters. We have the privilege of meeting wonderful individuals, though occasionally we encounter those who may prove challenging. Nevertheless, the notion of boredom has become a distant memory, as our days are filled with dynamic interactions and meaningful contributions.

What made you decide to join Safe Local Trades?
Recognizing the importance of being easily accessible to our local clientele in the PE area, our company made the decision to become a member of SLT (Safe Local Trades). By joining SLT, we aimed to ensure that our potential customers within the local community could easily discover and connect with us. Additionally, being a part of SLT signifies that we have undergone a thorough vetting process, offering people the assurance and peace of mind when engaging with our services.

How has Safe Local Trades worked for your Business?
Being a part of SLT has proven to be immensely beneficial for our business. One of the greatest advantages is the confidence it instils in individuals seeking to engage with local businesses. The SLT affiliation acts as a seal of trust, assuring potential customers that we meet the association's standards of excellence.
Furthermore, our membership in SLT has facilitated the formation of meaningful connections and friendships with fellow members. This camaraderie has extended beyond networking, as we have discovered valuable opportunities to utilize the services and products offered by other reputable companies within the SLT community. The shared SLT status creates a sense of mutual trust and reliability, making it natural for us to support and collaborate with our fellow members.
To read Anglian Lift's profile and reviews on Safe Local Trades, click here