Posted on: 28th July 2022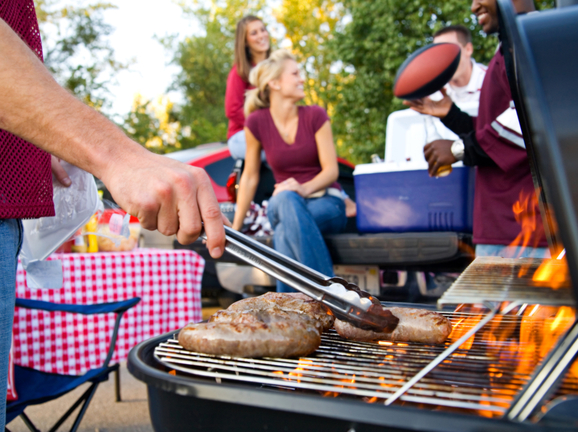 Stay safe this BBQ season
SUMMER'S here – and whatever the weather, us Brits love our barbeques!
The past couple of years have seen a real BBQ bonanza – with 2021 recording a huge leap in the number of BBQs held by cooped-up Brits during the summer lockdown.
Did you know, the number of BBQs held in the UK last year rose by 55 million on 2019, up 40%, to 190 million? That's a lot of burgers!
A BBQ is a great excuse for a spot of alfresco dining with family and friends, offering a chance for the fellas to show off their grill skills, the ladies to rustle up a tasty summer punch and the kids to have endless fun.
If this sounds like your ideal BBQ (and what's not to love?) then don't allow anything to spoil it.
Barbecues are the cause of many hundreds of accidents that occur in the garden each year, with burns accounting for the most injuries.
However, planning ahead and following some simple safety tips will ensure you BBQ is fun-filled and not a flaming failure.
Keep your barbecues away from flammable garden furniture such as wooden or plastic chairs.
Move your barbecue away from sheds, fences, overhanging branches, and foliage and never light it in an enclosed space.
Never leave a barbecue unattended.
Never let children too close to the barbecue.
Use only recognised firelighters or starter fuels on charcoal barbecues.
If you're a gas barbecue user, ensure the tap is off before changing the cylinder.
When choosing a barbecue, stability is essential - ensure the one you choose is strong and sturdy.
Check your barbecue is in good condition (particularly if you have not used it for some time) and look for loose or damaged parts that may need adjustment or repair.
Don't forget your mitts for handling anything hot and perhaps use gloves if you're going to be handling a lot of raw meat. You can change your gloves more easily than you can wash your hands in the great outdoors.
Disposable BBQs should be left to cool for several hours before being disposed of. You should also pour water over it before putting it into a bin, to ensure the heat has been eliminated; many fires are started due to the heat from leftover disposable BBQs, rather than the flames themselves.
To protect your family and your home, it is advisable to have working fire alarms in your property and to generally fire-safety savvy.
And it's not just BBQs that can cause an outdoor hazard:
Ensure all lanterns and candles with a naked flame are fully extinguished when you leave the garden.
Never leave children unattended in or near inflatable pools or similar if they contain water. The same applies to garden ponds. Take care also when visiting other people's gardens - children can drown in less than 3cm of water.
Clear away unused garden hoses and tools – which can be easily tripped over.
Protect and secure your home and garden by securely locking back gates, sheds, garages and windows on balmy evenings.
For all your home improvements, security and health and safety needs see www.safelocaltrades.com