Posted on: 7th August 2017
Safe Local Trades comes to the aid of disabled victim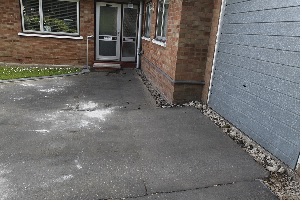 Following months of stress, financial worry, poor health and anxiety brought on by the actions of a rogue trader, a disabled Peterborough man says he can now enjoy his home again.
Brian Gilbert of Orton Waterville, Peterborough parted with a £1,000 cash deposit to a trader whom he instructed to resurface his 71 square metre driveway in February of this year.
After taking the money – which equated to half
of the fee quoted for the project – the trader completed half a day's work at Mr Gilbert's property and then failed to return to finish the job.
Mr Gilbert, who uses a mobility scooter to get around, has been unable to contact the trader and or retrieve any of the money paid. The unfinished driveway has left access to his garage unsafe and resulted in months of stress and worry.
Now, five months after the work began; Mr Gilbert says he can begin to enjoy his home once more – following a DIY SOS-style community call by Safe Local Trades, the city-based community safety service that protects consumers from cowboy and rogue traders.
Safe Local Trades owner Eileen Le Voi received a call from Mr Gilbert, unsure of what to do after the trader disappeared with his money and did not complete the driveway work.
She said: "Mr Gilbert had been left in a distressed state following the experience, and we tried in vain to make contact with the trader – who seems to have just disappeared."
Determined to do what we could to help Mr Gilbert, we issued an appeal to the local trades community for any support they could give. We were delighted with the offer of help from a local tarmac and asphalt surfacing company to take over the work, and an offer of materials from another business."
Des Watt of Des Watt Roadways from Yaxley stepped in to restore and repair the driveway, with materials supplied free of charge by MQP of Baston.
Councillor Watt said: "When we heard about Mr Gilbert's plight, we wanted to step in and help. We often hear of rogue traders and their effect on unwitting customers, and this was a particularly stressful example. With the help of Eileen from Safe Local Trades, and Alex Smile of MQP, Mr Gilbert now has a fantastic and useable driveway which he can enjoy for many years to come."
Mr Gilbert commented: "The past few months have been nothing short of a nightmare. The stress has had an impact on my health, myself and my wife have had the financial worry and been left with a half-finished driveway we have been unable to use for five months. We can't thank Eileen, and her colleague Kerry, enough for their advice and help which has led to the issue being resolved and at no additional cost to the original quote."
Eileen added: "My huge thanks to Des, Alex and their teams for their support. Mr Gilbert is certainly not alone when it comes to being duped by rogues – many of whom appear to be completely genuine, and not all who cold call with a knock at the door.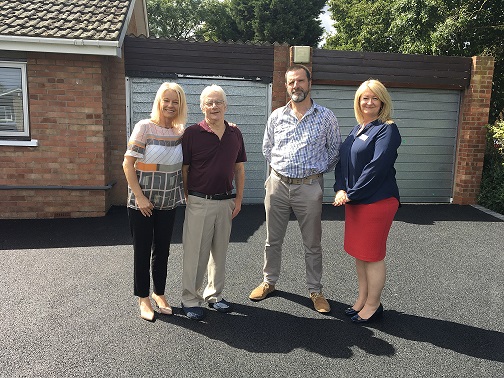 Eileen Le Voi and Kerry Cooper from Safe Local Trades with Barry Gilbert and Cllr Des Watt, Huntingdonshire District Councillor for the Yaxley and Farcet Wards, enjoying the restored driveway.