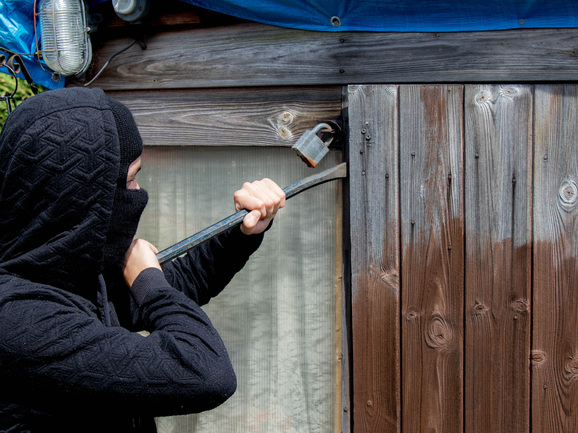 Protect your garden from green-fingered thieves this summer
Over the past year, many of us of have spent more and more time in our gardens and outdoor spaces.
During lockdown, our gardens have become more important than ever; as we have grown our own vegetables, added decorative lighting and ornaments, invested in furniture and splashed out on hot tubs and outdoor bars.
So as our outdoor spaces become an extension of our home, we may have invested a lot of time, effort and money into making them look fabulous; and that could also have meant buying additional tools, a new lawnmower or a range of other gardening gadgets.
But when considering our outdoor space and belongings, how many of us pay the same attention to garden security as we do our own home?
Did you know that 9 out of 10 household thefts occur in the garden - with our best outdoor furniture, garden ornaments, power tools and ornaments, barbeque and ladders among the top items?
So, when it comes to what you already have, think about the value and security of our outdoor possessions in the same way you view those inside the home.
Here are some simple precautions:
Take a walk around your garden and check things that may be appealing to a thief - an unlocked back gate or shed (particularly if the shed contains expensive garden tools / machinery or bikes).
Get a reputable locksmith to secure gates and sheds.
Lock away ladders or anything which could be used to gain entry to your home.
CCTV surveillance will allow you to view your garden and any unwelcomed activity from your home.
Install some sensory / outdoor lighting.
Alarm the garage to provide additional security or think about installing garage roller shutter doors.
If your fencing is flimsy, broken panels could provide easy access to intruders, so consider investing in some new and improved fencing or panels.
Pack away out of sight any garden tools or equipment. Even if you take a break from cutting the front lawn, keep your mower out of reach of opportunist thieves.
Secure expensive plants with wire pegs dug into the ground around the root ball.
Use a security pen to mark valuable items, like garden furniture, ornaments or trampolines, with your postcode.
Consider defensive planting like prickly hedges or shrubs.
Join a local Neighbourhood Watch Group (https://www.ourwatch.org.uk/) – where you and your neighbours can look out for each other.
When thinking about having any security, garden maintenance or crime prevention work carried out in your home and / or garden, always use someone reputable and trustworthy. If you need a recommendation for a safe, approved local tradesperson, go to www.safelocaltrades.com