Posted on: 6th December 2020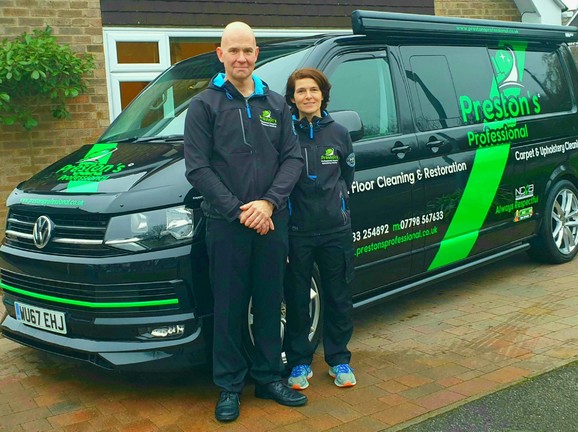 Caring city cleaning business goes the extra mile in long distance SOS
In these uncertain times, random acts of kindness and going above and beyond the call of duty are all the more heartfelt.
And none more so than when Safe Local Trades member Richard Preston, of Preston's Professional Carpet and Upholstery Cleaning received a call for help from a pensioner some 70 miles away.
The gentleman in question was calling from Bury St Edmunds on behalf of his elderly sister, whose ill health meant that she was unable to properly care for herself at her Peterborough home.
He had found Richard, a tried and tested professional living in Peterborough, through a Google search – and was reassured to find Richard's Safe Local Trades profile.
Sadly, the lady had been admitted to hospital and the property was in such an unclean and neglected state, that Richard and partner Karen originally had to turn down the job as it wasn't their normal line of work.
But with no other company willing to take on the job, Richard and Karen stepped in; ordered a skip, donned their protective suits and masks and got to work.
Richard said: "Given this was not my normal line of work I turned down the clean and resorted to passing the work on. It became immediately obvious that no one company would take on the job, as the bungalow was filled with cut glass ornaments, bookcases and the lady's life's treasures.
"The gentleman (Mike) more or less pleaded with us to take the job as he had no other contacts in the area. So, we ordered a skip, got our hazard suits and masks on and removed all the living space and bathroom carpets. Carefully and respectfully boxing the lady's items as we went along. Once the carpet had gone, we managed the other parts of the cleaning and used fellow Safe Local Trades member Sean Wesley to replace all the removed carpets.
"The property is now sparkling, and it has given both Karen and myself such joy to help and to receive such heartfelt thanks."
Mike said: "Richard and Karen were my saviours. Living 75 miles away and having to shield I had to put my trust in them, and they certainly exceeded expectations. Richard co-ordinated the whole job, advising on suitable carpets and non-slip wipe clean flooring, fitters, house cleaners, and also cooker cleaners, all members of Safe Local Trades. Richard cleaned the remaining carpets, soft furniture and the curtains.
"The finished product was amazing. I cannot thank them enough for their professional and knowledgeable opinions and help.
"I am in my mid 70's and I have nothing but praise for them and would go as far as to say the best company who has ever done work for me."
Safe Local Trades director Eileen Le Voi added: "This is a wonderful example of customers from outside of the Peterborough area putting their trust in Safe Local Trades and our terrific members.
"Richard went above and beyond to ensure this elderly gentleman had nothing to worry about and delivered a first class professional and personable service. My huge thanks to Richard, Karen and all the other traders involved for showing kindness and putting a virtual arm around this family in these uncertain times."