Posted on: 3rd April 2017
Nuisance Callers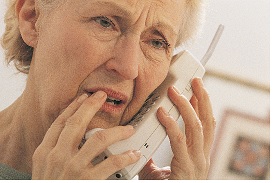 Phone companies are waging war on nuisance callers
YOU'RE just about to sit down to your favourite soap or are in the middle of cooking dinner / bathing the kids, the phone rings - and it's one of THOSE calls.
It is estimated that around 30 million nuisance calls are made each week.
Did you know that the average Brit receives four nuisance calls a week. More often than not, they are direct sales calls or automated 'offers'.
It is little wonder then that according to research by BT, 60 per cent of people find receiving these kinds of nuisance and cold calls stressful.
BT is one of the companies fighting back, with a new breakthrough service to help manage the situation, by developing a system called BT Call Protect to help customers avoid nuisance calls on their landline - by diverting a whopping 30 million calls a week to junk voicemail.
Other service providers are also putting customers first, with Sky and Virgin offering their own system to deal with nuisance calls. Check with your provider to see what they offer.
It may be worth mentioning that at Safe Local Trades, none of our professional and recommended tradesmen operate a 'cold calling' approach. Our user friendly website www.safelocaltrades.co.uk offers customers looking for a particular trade the opportunity to contact the professionals through an online enquiry form or by telephoning 0800 014 1832.
It's safe to say that all our time is precious, and we don't want to be disturbed or harassed in our own homes by these calls.
Did you know that there is a way to curb these calls? The Telephone Preference Service (TPS) is a free service which enables you to join the official register to opt out of unsolicited sales and marketing calls.
Remember, it is a legal requirement for telemarketers NOT to call a TPS subscribed number after 28 days, but you should start noticing a gradual decline once registered. To find out more visit www.tpsonline.org.uk or telephone 0345 070 0707
You can protect your privacy even further by not giving out your telephone contact details to a third party during online surveys, quizzes or competitions.
And if you continue to be plagued by people telling you that you have won a dream holiday, offering to help you after your 'car accident' or claim to have a PPI reward for you – you can report them online at https://complaints.tpsonline.org.uk/consumer/complaint