Posted on: 1st December 2017
Make sure your Christmas stays Merry - not Miserable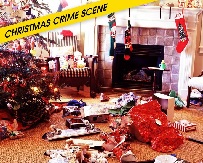 'TIS the season to be jolly – presents to buy and proudly displaying them under a beautifully decorated tree.
However, it may not just be the intended receiver of the gift who takes a shine to the pile of expensive goodies.
Christmas is a time when many of us let our guard down, among the excitement leading up to the big day.
For opportunist thieves, visible presents under the tree, open car boots full of shopping while loads are being taken into the house and even the possibility of an unlocked garage are rich pickings which can turn your Christmas from being Merry into Miserable!
Equally, flaws in home security while out and about visiting friends and family are a beacon to thieves – so always remember to check your alarm and never leave doors, windows or garages unlocked.
Some tips for a safe and happy festive season:
- Don't leave presents in full view – either in the home or in the back seat of the car.
- Shorter days mean longer time for thieves to be in operation – always lock your car and front door when entering your home.
- Keep a light on indoors and outdoors if you are out visiting friends or family.
- It may be an idea to fit some motion detector security lighting – it won't just be carol singers who come calling.
- Keep your personal data safe – and securely dispose of receipts.
- If buying bikes and / or electronic equipment for Christmas – mark them with your postcode
- Away over Christmas – plan ahead. If you're going away at Christmas be sure to cancel any newspaper or milk subscriptions. Arrange for a neighbour to park on the driveway to help create the impression someone is home. Do not to leave descriptive telephone answering machine messages like "we're away skiing for the Christmas holidays" or post your plans on social media.
- If using outdoor festive lighting, ensure cables aren't passed through windows, leaving enough gap for burglars to make use of.
For any home security improvements we have locksmiths, alarm and CCTV installers, electricians and many other traders who can help.
Wishing you all a very Happy and safe Christmas from www.safelocaltrades.com and www.safelocalservices.com