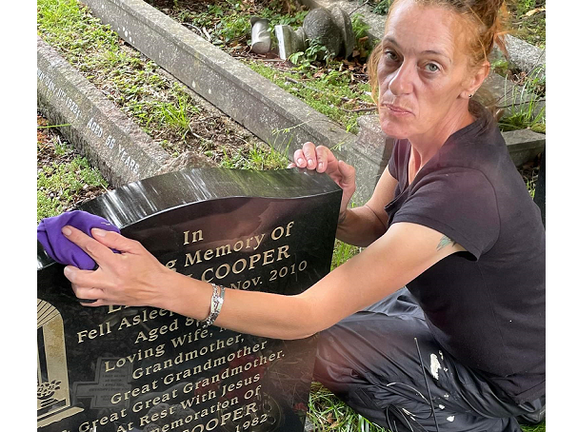 Lorna's burial ground maintenance service brings comfort to bereaved families
More than just a gardener, Lorna Cooper brings care, compassion and comfort to her many customers, by tending to the graves of their loved ones.
Safe Local Trades is delighted to welcome Lorna – founder of Forever Remembered – as one of its newest members.
In addition to garden maintenance, which includes mowing lawns, weeding and generally keeping the green space tidy, Lorna has many years' experience with her Peterborough-based graveside maintenance company.
The service she provides gives customers comfort in knowing that someone caring, professional and trustworthy is attending to grave of family or loved ones they are unable to visit or care for themselves.
Specialist grave tending companies like Lorna's offer gravestone maintenance and other services for families that don't live close to their loved one's resting place – offering peace of mind to people who cannot visit the grave as often as they would like or are physically unable to look after it.
However, the business is a very specialist one and requires a lot of behind the scenes liaising with local authorities and other relevant organisations; each burial ground may have its own regulations.
In each individual case, Lorna is granted permission to tend the grave not only from the family but following local authority and inspection and risk assessment.
Lorna said: "Each grave tending is carried out personally by me, ensuring a thorough and reliable outcome every time. Along with a before and after digital photograph, I aim to give the customer total peace of mind know the graves of their loved ones are being maintained with excellent care and respect.
"Once instructed by the customer, I then receive a permit from the relevant authority to enable me to carry out the work once a risk assessment of the area has been adequately completed."
Services include grass clipping around the memorial stone, laying a posy, cleaning and emptying pots and cleaning and polishing the headstone.
To find out more about this specialist and valuable service visit Forever Remembered | Grave Tending in Peterborough | Recommended by Safe Local Trades