Posted on: 1st August 2021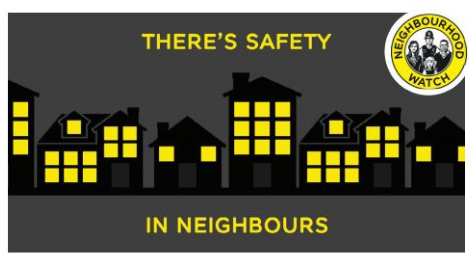 Everybody needs good neighbours. Here's why you can - and should - join the crime prevention army
As life starts to get back to a new kind of normal, a major winner of the pandemic has got to be the nation's community spirit, highlighted in the 4th of July 'Thank you Day'.
So, let's keep that going – and look at one easy but overwhelmingly effective way of supporting your local community; signing up to your local Neighbourhood Watch!
Not only will neighbours be joining forces against crime in the area, but can also be part of an invaluable network with many benefits – and be the eyes and ears of your street.
Neighbourhood Watch works as a team where everyone comes together to make their communities safer and improve the wellbeing of its residents, working with the Police, Local Authorities and many other voluntary and professional organisations.
Living in a NHW area can:
Lead to lower home insurance.
Allow neighbours to keep in touch via a private Facebook or WhatsApp group
Promote a communication system to warn about crimes in the local area; ie cold callers operating in your street or just to ask, 'which colour bin is it this week?'
Give a visible warning to burglars that the area is a NHW zone through displaying window stickers and road signs
The unfortunate news is that as lockdown eases in the UK, we're expecting a rise in burglaries. The NHW association has recently partnered with the Home Office to run a social media awareness campaign to alert those most at risk, giving them practical tools that are proven to prevent burglary by nearly 50 times.
The 'There's safety in neighbours' message – featuring the iconic black and yellow branding – encourages use of the WIDE combination of security measures in the home.
Properties with the WIDE security combination e.g., window locks, indoor lights on a timer, door double or deadlocks and external lights on a timer or sensor - are nearly 50 times more protected from burglary than those with no security.
There are many successful and active NHW schemes in and around your area and they are easy to join. The association will support residents in helping them to develop a greater understanding of how to prevent crime by improving community vigilance, and by reporting suspicious incidents.
A really important aspect of a NHW scheme is to improve well-being in the community by encouraging activities aimed at improving neighbourliness, reducing loneliness and by fostering a community spirit.
To find out more about joining a NHW scheme in your area visit www.ourwatch.org.uk