Posted on: 2nd September 2019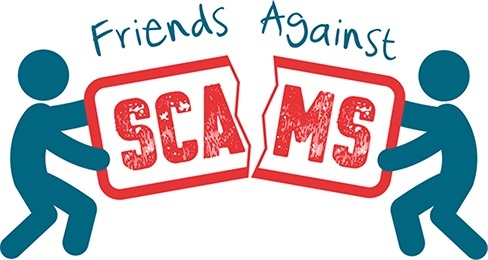 Be armed with the right information in the battle against the scammers

IT seems that not a week goes by lately without warning of a new scam – with cyber criminals becoming more and more sophisticated.
An email from a supposed legal or Government source can be so convincing that it can fool even the shrewdest among us, as can a request to transfer money or pay a bill.
However, the fight against scams is hotting up. As well as the many reliable channels which can inform and advise about scams (including the UK Action Fraud), there is also a user-friendly Friends Against Scams website - a National Trading Standards Scams Team initiative which aims to protect and prevent people from becoming victims of scams by empowering communities to 'Take a Stand Against Scams.'
Friends Against Scams is designed to inspire action, highlight the scale of the problem, change the perceptions of why people fall for scams and make scams a community, regional and national topic.
And what's more, Friends Against Scams offers a free, easy-to-use online learning service where anyone can learn about the different types of scams and how to spot and support a victim.
The session – which takes around 20 minutes to complete – can be done in the comfort of your own home, in the workplace or even on your phone while on the move. When you have completed it – you will even receive a certificate. Visit https://www.friendsagainstscams.org.uk/training/friends-elearning to find out more.
With increased knowledge and awareness, people can make scams part of everyday conversation with their family, friends and neighbours, which will enable them to protect themselves and others.
Friends Against Scams also offer easily accessibly awareness sessions run by SCAMchampions, who are trained and supported by the NTS Scams Team. Each 45 minute awareness session is fun and interactive and a chance to meet other people who want to 'Take a Stand Against Scams'. The website will have all the details.
Scams can vary from postal to online. Don't be caught out by things like:
Phishing – this will most likely be an email from the 'bank' designed to trick victims into revealing personal information and passwords
Phishing: where you receive an email that pretends to be from an authority (e.g., your bank) in which you're asked to give out your passwords or personal information such as your address, telephone number, or other data.
Pharming - the fraudulent practice of directing online users to a fake website, which mimics the appearance of a real / legitimate one
Romance Scams - a confidence scam whereby a criminal displays fake romantic intentions towards a victim in order to gain their affection to then extort money
Impersonation of UK officials - criminals impersonate a UK official to obtain personal information by claiming that the victim is due a refund or must make an urgent payment
Ad Clicking: where hackers encourage you to click on a link (perhaps by email, or on a webpage) which will then open malware or simply ask for your personal info.
For details on existing and the latest scams to affect the public, trades and businesses across Cambridgeshire visit https://cambridgeshireinsight.org.uk/capasp/