Posted on: 1st August 2020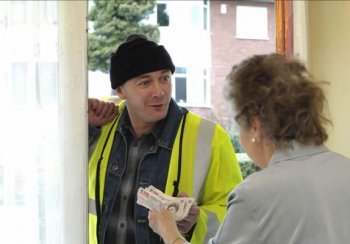 Ensure post lockdown doorstep scammers don't give you the summertime blues
OVER the past few months, the COVID-19 lock down has halted life for so many people – not least the doorstep rogue traders.
However, as the restrictions continue to be eased, the fraudsters have once again begun to make life a misery for the elderly and the vulnerable, who are being caught off guard by Coronavirus scammers.
Many people have been waiting weeks and weeks to have their windows cleaned, garden spruced up, property exterior painted or driveway re-paved.
But we would warn those hasty to have the work they desire so much to be carried out to simply stop and ask the professionals – even if it means waiting just a little longer.
With so many rogue traders looking to cash in on people's new-found freedom, it can be tempting to agree to work being offered.
Whatever the job – big or small – don't be tempted to give the work to someone who cold calls you at your home, claiming to be 'carrying out similar work in the area'.
Firstly, they have caught you unawares, a time when you don't really have time to think and make an informed decision; they can be very persuasive.
Secondly, any offer which appears too good to be true often is.
Common reports include:
Taking a deposit and never returning to do the work
Quoting a price and then increasing the cost as the job progresses
No statutory cancellation notices (cooling off period - see below), guarantees or warranties provided
Produce poor quality work and refuse to sort out problems or finish the work
Avoiding Rogue Traders Advice:
Be cautious; if a trader knocks at your door, do not agree to on the spot house repairs without taking advice. Say 'no thank you' and close the door.
Be wary of special offers. They will use tactics such as 'I am only in your area today and would need to do the work now'.
Do not believe when told that guttering, roofing, gardening or paving work is in need of urgent repair – this may cause you to panic and allow the work to take place.
Don't allow anyone to pressure you into agreeing to have work carried out. If you ask them to leave and they don't, they are committing a criminal offence - contact the police on 999.
Do not make snap decisions. If you feel that any work needs carrying out on your property, take time to talk to family or neighbours before you make a decision.
Don't ever go to a bank or cash point with a trader; legitimate traders would never do this!
If you are in the market for a new driveway or patio or are dreaming of a new lawn or garden for the summer – then always use a reputable tradesperson, like the members of Safe Local Trades.
For more advice about avoiding rogue traders, and to download a copy of Cambs Police's 'Not all callers are genuine' advice booklet, go to https://www.safelocaltrades.com/consumers/advice/avoiding-rogue-traders