Posted on: 17th April 2020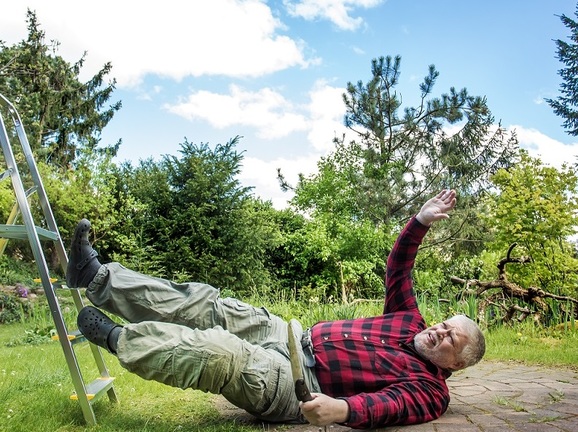 Don't let LOCKDOWN DIY turn from a good deed to a disaster
FROM fixing the kitchen cupboards and re-tiling the bathroom to mending the broken fence and cleaning the guttering – the list of jobs most of us have been putting off for ages is endless.
And with many of us having more time on our hands at home, the temptation is perhaps to bite off a bit more than we can chew.
During these unprecedented times of self-isolation and social distancing, many people are using the lockdown to carry out their own DIY jobs around the home and garden. However, recent reports show that people doing 'lockdown DIY' are piling added pressure on the NHS as a rise in home improvements gone wrong is sending more to A&E.
Shockingly, more than 6,000 people die in accidents in the home every year in the UK - and 2.7 million turn up at accident and emergency departments seeking treatment; according to RoSPA (Royal Society for the Prevention of Accidents). And with the NHS currently stretched to capacity – this is the last place you would want to end up!
RoSPA say the most common DIY accidents include traumatic injuries caused by sharp or power tools, falls from ladders, cuts from knives while cutting cable and carpets, slips with saws when cutting wood, paint dripping into eyes from ceilings and slabs falling onto hands and feet.
The NHS has warned that reducing avoidable accidents will take unnecessary pressure off the health service as medics continue battling to treat those affected by the Covid-19 pandemic.
With this in mind, we would advise that if you feel the work is out of your comfort zone, you don't have the correct tools or protective equipment to carry it out safely and it is non-essential – then try and leave it until after lockdown.
For those projects that you may have been future planning and, whilst many of our Safe Local Trades members are self-isolating; it is worth making contact with them now, here on www.safelocaltrades.com
Sending an email in the first instance can then lead to a phone or video call to explain your garden or home improvement needs. It may be worth noting that tradesmen will not only be tackling a backlog of existing work but will be filling up their order books in the current climate so don't leave it too late to get your planning underway for when the Government restrictions are lifted.
For further safety advise, see https://www.rospa.com/media/documents/campaigns-fundraising/campaigns/diy-safety-factsheet.pdf