Posted on: 1st September 2023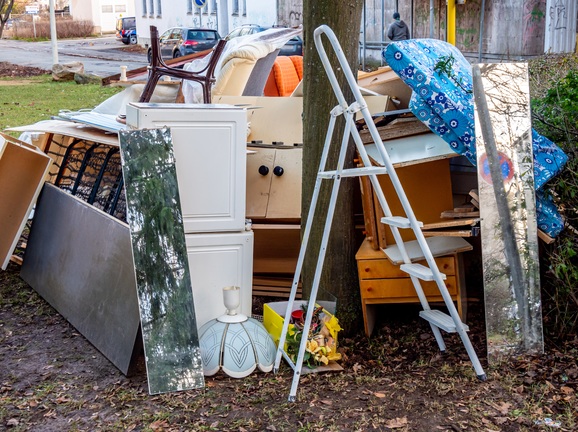 Don't let cowboy clearance companies mess up waste disposal plans
From a September spring clean to a full-blown house (or even office) clearance, embarking on this for the first time can be a daunting – and sometimes emotional, experience.
Perhaps you are looking to get your own property sale ready, making preparations to sell a family member's house or are moving out of your working 'home'.
But before you enlist the clear-out services of a clearance company – wise up to their waste disposal offering to ensure they don't mess up your good intentions.
Taking the time to do a few checks check can help make sure that your unwanted belongings won't be fly-tipped illegally.
There are a few things you can do to reduce those chances with some top tips:
Ask the company if they have a waste carrier's licence. These are issued by the environment agency and makes it legal to carry your rubbish. Without it they are breaking the law, businesses that are willing to break one law will break many – so don't hesitate to ask.
Professional businesses will have measures in place to protect their employees, staff and of course you. Ask them if they have public liability insurance as good house clearance companies will certainly have one.
House clearance companies have overheads such as fuel, labour, tipping and recycling fees. If a price sounds too cheap then it might be they intend to dump your stuff on the side of a road, down an ally or even a field.
Normally a good online reputation will reflect in the real world, ensure that they have good reviews on reputable platforms, or simply get in touch with tried and tested traders at House Clearances in Peterborough | PE1 | Recommended by Safe Local Trades.
Sustainability and caring for the environment may also be a concern when it comes to house clearance and waste disposal, and leaving this element to the professionals can help meet those expectations.
If you are looking to declutter on a small scale why not:
Start small until you feel in control of the situation. Maybe kick off with a drawer or cupboard and work your way methodically through the room – one room at a time.
Work to some kind of order or have a system in place– have labelled boxes for items you want to throw away, recycle or sell.
Think about clutter control if you are selling your home. In preparation for viewings, pack away any items that may make your home look crowded, including toys.
Encourage young members of the family to tidy their own space and help them to set aside any unwanted or unused toys and clothes.
However, there may be some larger projects that you just don't have the time or capability to manage alone, and that's when calling in the experts can help clear your mind as well as your surroundings.