Posted on: 1st November 2017
Don't get beaten by the scammers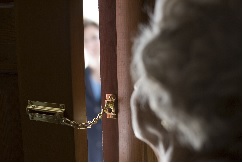 NONE of us like the thought of our friends, family or even ourselves being scammed – and duped into parting with cash or even personal security information.
Rogue traders, hi-tech scammers or cowboy service operators can convince and catch even the most wary of people off their guard; with a cold call knock at the door or what seems like a genuine telephone call or marketing literature.
Sadly, statistics show that the most vulnerable when it comes to being duped are the over-70s in terms of financial loss – to the tune of a staggering £4,500 from a number of different types of scams.
And according to figures from the Citizens Advice Bureau, people aged between 61–80 are more likely to be victims of investment fraud, with victims losing an average of £10,000.
The same can apply to traders either knocking at the door and suggesting work needs doing to your property or through leaflet drops. Always check the credentials of traders if you are in doubt and certainly before you agree to any work – AND part with your cash.
We recently had a case of a disabled customer who parted with £1,000 cash – half the fee quoted for driveway repairs – to a trader who did half a day's work and was never seen again. Attempts to contact him and retrieve the money failed, leaving the customer to face five months of misery before the project was remedied by Safe Local Trades and Yaxley business, Des Watt Roadways.
Our advice to anyone – who is either contacted by telephone, email or in person – is not to be afraid to ask questions and challenge their motives.
If you are in the older age bracket, it is also worth remembering:
With thousands of bogus health products for sale online, the best advice is to proceed with real caution when considering any new medicine or healthcare product.
Although there are legitimate companies who make a living by tracking down heirs, they don't do it in this way. If you're asked for a fee for a report, it's very likely to be bogus.
Don't respond to competitions you haven't entered and never reveal your bank details or pay fees in advance to release your prize.
When it comes to cold callers – never be pressured into making an on the spot decision, signing up for any work and indeed, handing over any money.
If in doubt about the reputation of any professional trader – visit www.safelocaltrades.com for reliable and recommended local traders or telephone 0800 014 1832.