Posted on: 1st April 2018
Don't be an April Fool when it comes to doorstep gardeners or landscapers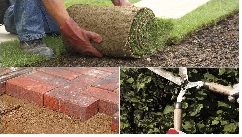 So, the milder spring weather is finally making an appearance, the nights are pulling out, and your outdoor space could do with a little TLC.
If the effects of this year's harsh winter and succession of storms have taken their toll on your garden or driveway, you may be thinking about calling in the experts to inject a little life back into the space at the rear or front of the house.
Maybe laying some turf, cutting back the hedges or repairing weather-damaged fences? Perhaps a complete overhaul or shiny new block paved driveway or patio?
Whatever the job – big or small – don't be tempted to give the work to someone who cold calls you at your home, claiming to be 'carrying out similar work in the area'.
Firstly, they have caught you unawares, just when you have returned from the school run or got home after a long day at the office – a time when you don't really have time to think and make an informed decision.
Secondly, any offer which appears too good to be true often isn't!
Remember:
Don't be talked into something on the spur of the moment.
Don't take their word for it when they tell you urgent work or repairs need doing.
Do ask them to qualify who they are and to leave you a contact number.
Never hand over any cash as a deposit for work which they say they will return to carry out.
Feel free to ask to see their credentials and /or examples of their work
Always ask them politely to leave if you feel uncomfortable with their approach
However, there are a few simple rules which could give away tell-tale signs of a rogue trader.
Do they have a land line number?
Do they have professional work wear?
Do they have a sign written vehicle?
Are they a Ltd company?
Do they have a UK Address?
Do they accept credit cards?
Are they offering reduced price for cash or having one time 'special offers'?
Are they trying to pushing you into a quick decision?
If you are in the market for a new driveway or patio, or are dreaming of a new lawn or garden for the summer – then always use a reputable tradesperson.
The door knocking scams of cowboy landscapers and other outdoor trades are becoming more and more common.
Normally the process starts when a workman knocks on the door and points out a problem with your existing driveway.
He will then tell you that he's in the neighbourhood working on other customers' driveways and has some left-over materials that means he could do your driveway for you at a reduced price.
Then the offer will come at a reduced price for a short period of time only. Normally, the rogue trader will pressure you slightly into making the deal there and then at the door.
Once they have you agreed to a deal, the next step is to ask for cash up front to 'ensure you'll pay'.
Easy as that!
Needless to say, it is absolutely mandatory that you never pay anyone cash at the door, especially when they haven't even conducted any work on your premises.
Most driveway scammers of this type won't even have conducted a full inspection of your property and therefore probably have no genuine idea as to the exact costs involved or the length of time it'll take.
The only way to protect yourself from driveway and patio scams is to always ensure you use a reputable tradesman, like the members of Safe Local Trades. No reputable tradesperson will come knocking on your door 'touting' for business.
If you would like to find a reputable and recommended tradesperson in your area visit www.safelocaltrades.com or telephone 0800 014 1832.