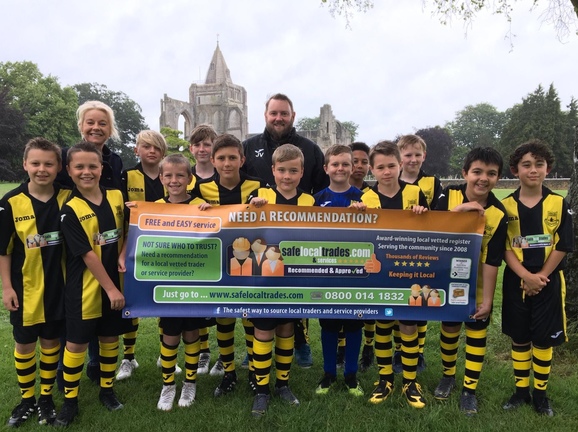 Back of the net! Grass roots football sponsorship is in safe local hands
Crowland Juniors Under 12s proudly show off their new home kit with sponsor Eileen Le Voi and manager/coach Jay Vernalls with Crowland Abbey in the background.
Consumer champions Safe Local Trades & Services are helping grass roots football kick off an exciting new chapter in Peterborough.
Crowland Juniors Under 12s will start the new season at a new ground, sporting a new kit and welcoming a new influential sponsor!
Under the management of experienced coach Jay Vernalls, the side will be made up of young players who have already established their team spirit on and off the pitch over a number of seasons.
However, welcoming Safe Local Trades & Services on board as new home kit sponsors for the 2019/20 season is an exciting and important addition to the team.
Safe Local Trades has been championing consumers for over 10 years by putting the public in touch with recommended, reliable and reputable tradespeople and working to stamp out rogue traders.
As businesses operating all over the PE & CB postcode area, it has become a business synonymous with trust and professionalism.
Director Eileen Le Voi said: "I am delighted to offer the support of Safe Local Trades & Services to Jay and these enthusiastic young players in the next exciting stage of their footballing journey. We seem to share the same ethos of putting people first and offering them the very best opportunity to succeed.
"I will be following the progress of the team and wish them all the very best in their pre-season training."
Jay added: "The kit looks absolutely superb and huge thanks from myself, the lads and the parents for Eileen's generous sponsorship.
"We cannot wait to wear this new kit with pride. Without the kind support and generosity of businesses like Safe Local Trades & Services – who themselves are at the heart of the local community – we simply wouldn't be able to keep children playing at grass roots level."
To keep up to date with our news, please follow our Facebook page at https://www.facebook.com/safelocaltrades