Adapting to the needs of the elderly and vulnerable - while disabling the rogue traders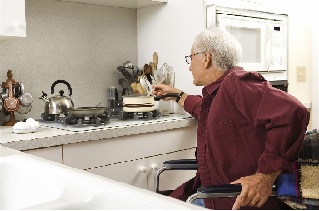 IT is well known that the UK population is ageing, with more people living longer lives than previously.
There are now over 15 million people aged 60 or over, making up 23 per cent of the UK population.
And where possible, often taking into account financial circumstances and health, many choose to continue to live in their own home; safe and secure surroundings they have worked their lives for.
But with getting older also comes the need for additional help; perhaps to aid with mobility and generally getting around.
It may come as no surprise that rogue traders work in this area too, often targeting the most vulnerable in the community.
Scams including cold callers claiming to be from their victim's GP surgery, asking for an appointment to discuss the person's mobility needs, are not uncommon.
The calls are targeted because in many cases, it is believed that unscrupulous firms are buying databases containing details of patients and their medical / mobility needs.
Quite often they arrange to meet the person either in their own home or at a designated place – and will persuade them to buy mobility aids (which could include bath lifts, scooters or reclining chairs) at inflated prices. More often than not, these aids are unnecessary, inappropriate and always expensive.
But as champions of the consumer, Safe Local Trades and Safe Local Services are able to offer recommended reliable trades/ companies, which elderly and less abled people can use with peace of mind.
Our member skilled traders work across the PE area, and talk with customers and their families and loved ones about their needs and expectations; whether that be a low level shower room or wet room, ramps and rails, non slip flooring, hoists, door widening and much more.
They will make an appointment to come and discuss your needs and deliver a first class service allowing the quality adaptions and modifications to help customers live a little more comfortable in their home.
And did you know that as part of our Safe Local Services offering, we have signed specialist company Bentley Nursing Supplies - a retail outlet providing Mobility Aids, Nursing Equipment and Consumables and Continence Supplies to the general public.
The company was formed in 1991, based on the need for a reliable supplier in the local area; offering free no obligation home or premises visit with demonstration and professional assessment on all equipment.
So Remember: Never deal with cold callers – however persuasive they are. If you receive a call of this nature, always check with your GP surgery before agreeing to a visit.
Likewise, any cold callers offering to carry out work on your property should be met with extreme caution. If you need a recommendation for a safe, approved local tradesperson, visit www.safelocaltrades.co.uk or call 0800 014 1832.
Useful links; https://www.safelocaltrades.com/PE/pe-central/disability-adaptions/pe1
https://www.safelocalservices.com/PE/pe-central/mobility-equipment-supplies/pe1