Posted on: 8th February 2019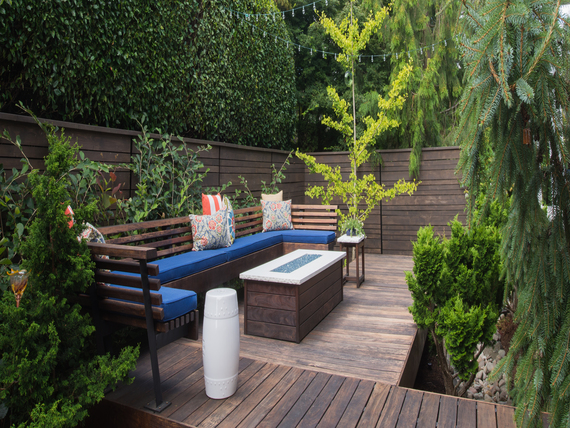 Tips from the Trades: Adding height and structure to your garden
With spring nearly upon us, there will be evidence of life and growth back in the garden – which may promote thoughts of 2019 being the year to dedicate to getting your outdoor space looking the best it has ever been.
Whether your garden is small, new, overgrown, an awkward space or you just don't know what to do to bring it to life – adding a little height and structure could make it a real talking point; and a fantastic retreat to enjoy with family and friends.
Use the winter to complete your planning and the spring to do the hard work; either yourself or by enlisting a professional landscape gardener / garden designer.
By the time the summer arrives you will be able to enjoy your new and improved garden, and not waste any of the good weather.
Here are our tips for planning and creating the perfect outdoor space.
Planning - don't dive right into the fun bit which is buying pretty plants and planters. You probably need to create some structure first. Plan where these structural elements; trees, trellises, ornamental features etc., are going to go first and how you are going to construct them.
Planters and raised beds - if your garden is flat you should consider creating some levels. Not only will this add more interest to your garden but it makes for much easier weeding and planting. In addition, if your soil is very poor, raised areas allow you to add better soil meaning you can plant flowers and vegetables that otherwise wouldn't grow. An easy alternative is to create these levels and planters from timber. You can simply buy tongue and groove boards and a few sturdy posts and off you go. These same materials can be used to build gates, screens, sheds and retaining walls.
Sectioning & screens - it can often make sense to section off areas of your garden. If you only have a front garden then some screening can be added to give you privacy. In larger gardens screening can be used to create shaded areas, hide sheds or play areas and provide wind protection for seating areas and vegetable gardens. Some plants make good screens – evergreen hedges are great for providing privacy.
Seating Areas - even the smallest gardens usually have room for a seating area. When will you use the seating area – morning, afternoon or evening? Make sure the space you choose for your seating area receives the sun when you will use it. You may need to cut back or remove trees or bushes to maximise the sunlight you can enjoy. The winter is a great time to do this because the plants are dormant and will not be damaged by cutting back. Because there are no leaves on the trees and shrubs it is easier for you to see what you are doing too.
Reuse - if you have to clear away existing garden structures and plants in order to create new areas don't throw away the old material or plants; you can often reuse them. Old wooden beams and sleepers can be used to edge paths, hold down weed retardant matting, create raised beds or form benches. Paving stones can be moved and reused to create paths. Plants can be dug up and moved. Winter is the idea time to do this for most plants because they are dormant.
If you require help with any of the above, Safe Local Trades has a number of garden designers, landscapers and garden maintenance professionals at www.safelocaltrades.com