Posted on: 1st February 2023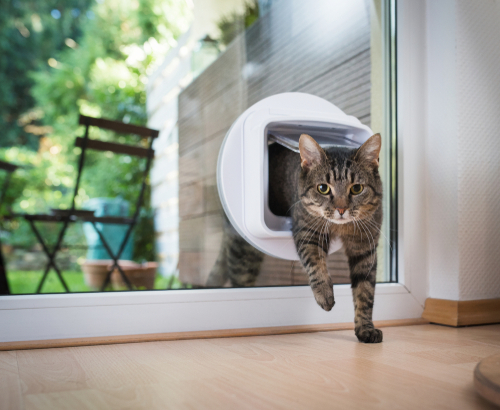 Pet owners – don't get in a flap when it comes to cat friendly home improvements
With cats being the second most popular pet in the UK – it is estimated that 12.2 million households own a cat.
That means that 27 per cent of UK households own at least one feline friend. And when it comes to one of the best creature comforts for your kitty – Safe Local Trades can now offer the purr-fect solution.
We are delighted to welcome Lewis from Stonebridge Home Improvements to the Safe Local Trades family – offering a specialist service in fitting cat and dog flaps in doors or windows, including into a glazed unit or a pvc / composite door.
Lewis explained: "If customers require a cat flap for a glazed door or window, the glazed unit will need to be replaced with a pre-installed hole because toughened glass cannot be cut or it will just shatter."
And there is great news for pet lovers who up until now may have been in two minds about bringing a furry friend into their family – thanks to the latest in cat flap technology.
Lewis added: "If you are someone who has been put off getting a cat flap for fear of strays or neighbourhood cats entering your home, why not consider a microchip cat flap which identifies cats using their unique pet identification microchip, thereby preventing any others from using it.
"The microchip cat flap does not require any collar or tag to activate it, which could become snagged or lost. When your cat uses the flap, you can be notified via your smart phone. Permission settings also allow you to deactivate, should there be times when you do not want your pet to go outside."
In addition, Stonebridge Home Improvements offers:
Window and door repairs
Glazing (glass replacement)
Bespoke custom-made mirrors
Kitchen splashbacks
Lock repairs and replacement
Gutters, fascias and cladding
Flat roof replacement
To find out more about Stonebridge Homes Improvements and to read customers reviews, visit the company's profile page.